Young Seedling Signs Up
As the warm weather approaches and gardens start to flourish, Doxford Hall Hotel in North Northumberland announce the appointment of Apprentice Gardener, Jordan Beattie. Aged 21 years and a fond lover of the outdoors, Jordon holds a blooming future ahead of him.
From Alnwick, and a former pupil of the Duchess School, Jordan is completing a two-year Diploma with Northumberland College in Landscape Gardening and Horticulture. This course covers a range of units, including; principles of plant and soil science, landscape features and plant propagation. Jordon will also gain an understanding of the historical influences on the development of gardens and how to plan design briefs for the landscape and garden.
When working in Doxford Hall Hotel's magnificent 10 acres of grounds and gardens, Jordan will work alongside Head Gardener, Esmond (Ezzie) Black. The gardens are a mixture of rose beds, herbaceous borders and seasonal flowers, with over fifty percent of the bedding plants grown in the hotel's greenhouses.
Hedge cutting and grass mowing are both major parts of the job and during the growing seasons the extensive lawns take almost three days to cut. There is in the region of a mile of hedges to clip annually, in addition to Doxford Hall's Yew Tree Maze – the largest yew tree maze in the UK. This 1,200 metre labyrinth was planted to mark the Millennium, and guests have been prone to get lost in amongst the 3,200 yew trees!
Nicola Nelson of Doxford Hall adds: The gardens are a major feature of the Doxford Hall experience and it is a real pleasure to have the opportunity, through this apprenticeship programme with Northumberland College, to support someone who is so keen to make landscape gardening their chosen career. I am delighted to welcome Jordon to the team and wish him every success."
In Doxford's large walled vegetable garden, produce is grown for the hotel kitchen, such as potatoes, onions and broad beans and the orchard is a reliable source of peaches, pears, apples and raspberries. In the greenhouses, there will be cucumbers and tomatoes, and Ezzie and Jordon will be liaising with the chefs about the kitchen's needs and making sure the restaurant has an abundant supply of fresh herbs.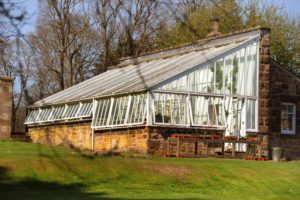 Commenting on his future career, Jordan said: "The course will give me an in-depth insight into all aspects of landscape gardening and I am delighted to have been offered an apprenticeship working with such a diverse and magnificent establishment as Doxford Hall. For me, the very best part of the job is being in the great outdoors, planting something from seed and watching it grow and tending to the gardens for the guests to admire.